6

min read
Isn't it annoying that some people can hit the sack at the blink of an eye (pun-unintended) while the rest of us have to try a gazillion sleep inducing methods like rubbing Vetiver oil on the tips of our toes (don't ask), adjusting our pillows to make sure we're breathing correctly, drinking a glass of warm milk to talking a hot shower. Yep. Been there. Done that. And I've lived to tell that none of them worked.
Since popping sleeping wells was never an option (it ain't healthy dude) I tried going natural to only realise it doesn't really matter how much milk you drink or showers you take. If you sleep at random hours every night you're never going to sleep well nor wake up like a hummingbird in the morning. 
So what can you do to become a morning person? There are a few things you can do to sleep better and wake up fresher.
But first…a little story.
Have you ever thought of why our ancestors were not plagued with the problems that we face today. If anything, we lead far more comfortable lives than our cave buddies did. Yet we find it so hard to get a good night's sleep.
Let's try to back track a little, shall we? So, many years ago our ancestors i.e cavemen slept like rocks (pun intended). I'm talking pre-historic, pre-smart phone, pre-comfy beds era.  A time where they didn't need an alarm to wake up.
Mr. Caveman and his buddies went out to hunt for food and returned to their caves just before sunset. Their only source of light in the dark was the fire created by rubbing stones together. The thought of it tires me out. 
When the fire died out, they would return to their caves and snore till it was time to wake. Like all humans, they had a natural clock that made them sleep and wake up at a designated time. 
The reason all the cave people fell sleepy at the same time is because of the way human bodies are built. Post sunset, our bodies produce Melatonin – a sleep hormone that makes us drowsy and helps us fall sleep. It controls both our sleep and wake up cycles. So far so good.
Simply put, sunset created darkness which then led to Melatonin production
Thomas Edison invented the light bulb and effed things up. His invention got in the way of darkness. It disrupted the production of Melatonin which can only be produced in the dark.  
Well I'm not asking you to give up modern living and move to the jungle. But you should understand the cause of a problem before trying to find a solution. 
---
So here are a few things you can do to sleep better and wake up early:
1) Set a fixed time to sleep and wake up
giphy.com
Calling all night owls to get their @$$ in bed at a fixed time. You wake up late because you sleep late. Yes I know there far too many things to do post dinner. From catching up on the 100th re-run of FRIENDS to browsing through movie gossip to catching up on all your social media sites. Whatever your excuse is, just drop it and GO TO SLEEP. Choose a time and stick to it. If you're restless like moi, then try getting into bed 30 minutes before your nap time to help your body unwind.
2) Quit bingeing at least 3 hours before nap time
giphy.com
Your body isn't a machine. It needs time to digest food and digestion is hampered when you lie down. To ensure your digestion doesn't interfere with your sleep, avoid eating a couple of hours before you sleep.
If you're hungry, have soup or a warm class of milk with 1/4 tsp turmeric (haldi).
Turmeric has the amino acid tryptophan
which helps increase serotonin levels in the brain.
Serotonin is a hormone which helps regulate sleep and research has proven that an imbalance can lead to insomnia. 
Although milk  contains tryptophan, it's not available to the brain because of other amino acids present in the milk. Turmeric helps change that and hence helps induce sleep.
3) No phone, 15-30 minutes before you sleep
giphy.com
Switch off all electronics before nappy time and keep them out of the bedroom.  The light from electronics gets in the way of Melatonin production. So switch off your beloved phone, the computer and television et al. Yep, everything you love. SWITCH. THEM. OFF. 
4) Baby turn off the lights in your bedroom
giphy.com
Lights from any source tricks your body into thinking that it's day time. Install thick dark curtains in your bedroom to block outside light and switch off all artificial lights in your bedroom.  
5)  Apply magnesium oil all over your body
I
t's been claimed that over half the world's population is deficient in magnesium due to poor diet, stress and anxiety. Magnesium is responsible for over 300 enzyme reactions in your body, especially in the bones, muscles, and brain.  It plays an important role in the nervous system to help you relax and fall asleep.  
Instead of supplementation, the best way to address magnesium deficiency is by applying magnesium oil all over your body which gets  absorbed directly in your skin/blood stream and hence works more effectively. The idea is to spray the oil 2-3 times all over your body before you sleep. 
Although Melatonin supplementation is commonly used for insomnia, the reason I use Magnesium oil is because Melatonin pills are banned in Dubai. Also, it has been proven Melatonin stresses your body which makes it fall asleep and hence is no longer recommended as a sleeping aid. 
6) Make your bedroom smell nice
Why do most people sleep well in hotel rooms? Because the ambiance plays a huge role – right from the dim lights, to the fresh linen, to super-comfy beds and most importantly because of the scent that surrounds the room. 
Replicate the ambiance in your bedroom. Light a candle, add your favourite essence to it (I love vanilla and this blend). Or light an incense stick (agarbatti) available at any Al Adil store in Dubai or purchase them online.  Orr you can simply spray your room with an organic scent. Avoid using commercial household strays are they're ridden with chemicals and do you more harm than good. 
There are so many simple ways to make your room smell nice without burning a hole in your wallet. Of all the suggestions in this post, this one has proved to be the most effective of them all for me.
7) Think positive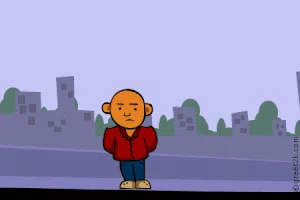 giphy.com
This isn't hocus pocus. And nor am I asking you to move to the mountains for inner peace. Your thoughts affect the way things pan out. If you go to bed angry, you're going to wake up angry. Stop over thinking about your life, work, that hot guy or girl or both (whatever floats your boat buddy) who have no idea you exist. Leave that all behind and clear your mind. Trust me you'll wake up well rested.
Bottom line
Start with one step at a time and be consistent. Doing the above once every 10 days isn't going to help. Like I always say, it doesn't matter what you do but how often you do it. 
Comments
comments